Homeschool Orders and Information



Grammar and Writing 3 is now available for purchase by homeschool users. To view products and pricing, or to place an order, please visit Rainbow Resource Center.

  
Where to Buy the Homeschool Edition:

Homeschoolers may order kits from their favorite homeschool distributor, such as Rainbow Resource.


Frequently Asked Questions:

Below are some common questions we receive from homeschoolers about the program:

What is the difference between the school version and homeschool edition?
The two products are identical in content but are produced differently:
The homeschool edition of the Grammar and Writing series includes a softcover Grammar Textbook, a Writing Workbook, and a Teacher Guide with answer keys, tests, and worksheets. We recommend using Rainbow Resource to acquire home study kits. 


Hake Publishing distributes Grammar and Writing to schools with a hardcover version of the Grammar Textbook designed for repeated classroom use. Schools also receive a more substantial Teacher's Edition. If you represent a school, click here to learn about ordering, or contact us for information about using the series in your school.
As a homeschooler, may I use the school edition or intermix different editions?
In the school edition, the textbook binding is more durable for extended classroom use, but the content, exercises, answer keys, and instruction are identical. If you have gathered various components from different sources, they will remain compatible. The same is true of older printings and older editions: in more recent printings, minor errors are fixed and a few lessons are added to the end of the writing workbooks, but all other content remains the same.
How much parent/teacher instruction is typically required for each lesson?
Most homeschool students can complete each lesson with very little parental involvement. 
How much time does it take to complete each lesson? 
Homeschool students typically complete the lesson instruction, the lesson practice, and the review set in 30 to 50 minutes.
Is there a placement test for Grammar and Writing like there is for Saxon® Math?
In the past we offered a placement test, but nearly every student placed at the lowest level due to insufficient grammar preparation. We now recommend placing a student at grade level if the student reads comfortably at or above grade level. If a student struggles with reading, starting at a lower level is strongly recommended.
In what ways does the content differ from grade level to grade level?
Similar grammatical content is presented at each level, but the depth and difficulty increases from book to book while some new content is added. Students in the lower level books still learn a great deal of grammar content, but the reading level and vocabulary are less challenging.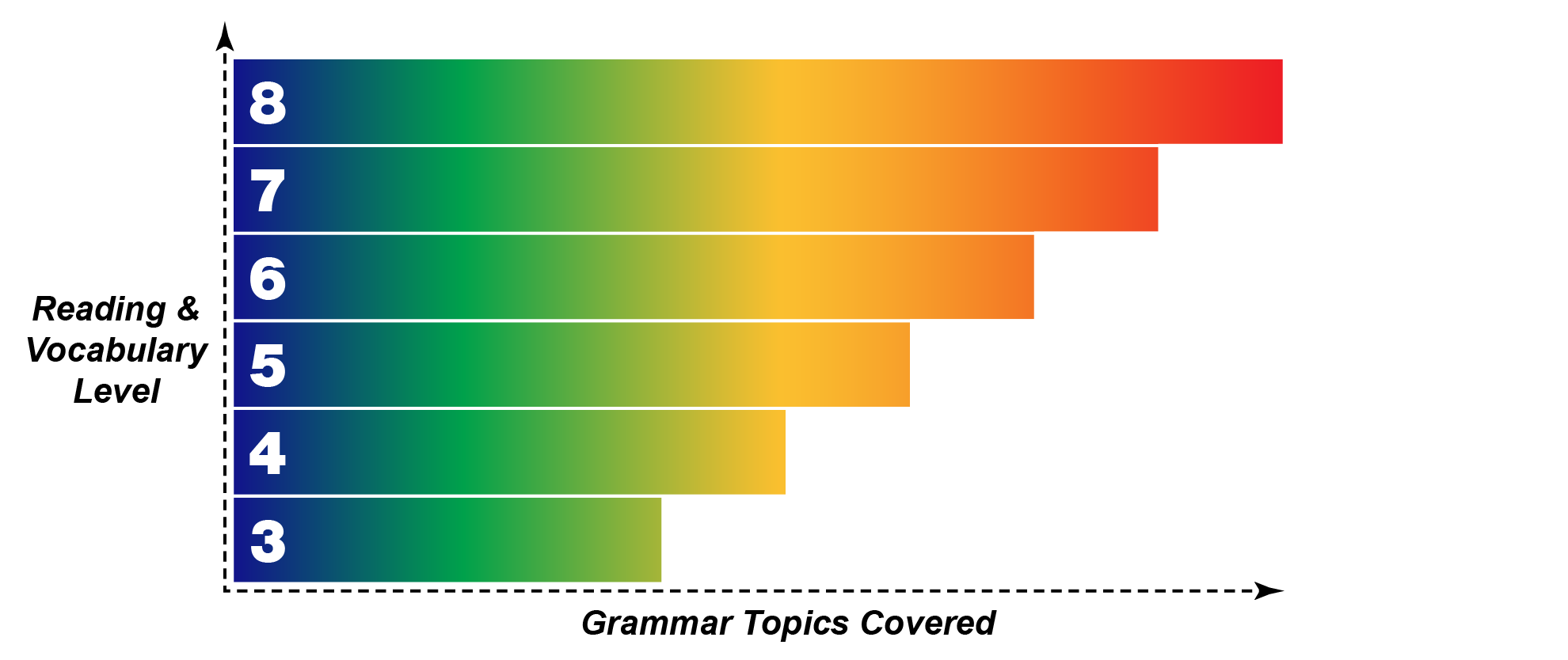 Students starting the program in later grades will not miss any prior grammar content. 
The reading level, subject depth, pace of instruction, coverage of new topics,
and vocabulary difficulty increase with each grade level.
What do you recommend for high school students?
We have found that a minimum of two years in the program is helpful for long-term retention of the content, so we often recommend that 8th grade students or high school students start at Grammar and Writing 7 and work through levels 7 and 8. College students have beneficially used these levels, so there should be no reluctance to use these books at the high school level. 
Students who have successfully completed at least Grammar and Writing 7 and 8 probably do not require additional grammar instruction. Students can use the time for an in-depth study of literature and to study for College Board exams and/or for the AP English Literature and Composition Exam. Those on a classical course can expand their studies in Latin and rhetoric.
 
Additional Resources:
If you have additional questions, we welcome you to contact us.